Salon-start-up checklist: 10 must-knows before opening your salon doors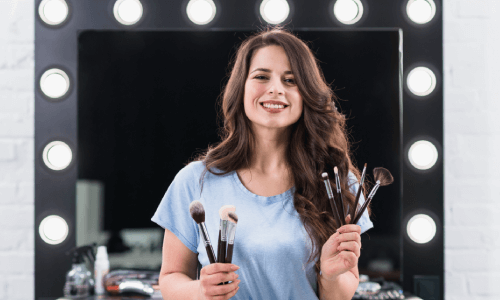 So you're thinking of opening your own salon? Congratulations! Starting a salon is an incredibly rewarding experience that can open up a world of new possibilities. However, there's also a lot of work to be done and plenty of research to be done before you open your salon doors.
To help get you started, we've compiled a salon-start-up checklist with 10 must-knows before you launch. Keep reading to make sure you're covering all the bases before you take the plunge!
Before opening your salon, it is important to know who you are targeting. Knowing your target market will help you design a better marketing strategy and create services tailored to your clients' needs. Consider factors such as demographics, location, lifestyle, preferences, and interests.
For example, if you plan to open a high-end salon, it might be wise to choose an affluent area of town and offer services designed for a more upscale demographic. Doing research and knowing your target market can help you provide the best services for your clientele and set yourself up for success.
Have realistic financial projections
Before opening your salon, it's important to get a clear picture of how much money you will need to get started. This includes researching startup costs, operational costs, and other factors such as paying rent and employees. Take the time to create realistic financial projections that reflect the true cost of running a salon.
Make sure you consider things like advertising, supplies, legal fees, taxes, and more. Having a clear understanding of your budget will help you make the right decisions about the financial side of your business. It will also provide you with an estimate of when you can expect to start turning a profit.
Creating a business plan is essential for any successful business venture, and a salon is no exception. A business plan will allow you to identify your salon's strengths, weaknesses, opportunities and threats. This will help you develop a strategy that will define the way you operate and make decisions.
Your business plan should include an executive summary, a description of services, financial projections, and marketing and advertising plans. Furthermore, it should also consider local regulations and licenses related to salon businesses. Creating a business plan will help you to understand the dynamics of the beauty industry and the needs of your target market. It's the roadmap to success for any salon.
Create a unique selling proposition
When setting up a salon, you'll need to purchase furniture, beauty tools and products. To ensure that your salon has the perfect atmosphere, you should consider the layout and design of your space. Start by looking for furniture pieces that match your business's style, such as comfortable chairs and chic reception desks.
In addition, you'll need to purchase essential beauty tools such as blow dryers, curling irons, hair straighteners and other equipment. Finally, make sure to stock up on quality beauty products, such as shampoo, conditioner, styling products, and waxing and skincare items. Investing in quality items will help you stand out from competitors and give customers the best experience possible.
Choose a strategic location
Choosing the right location for your salon is essential to your success. Before settling on a location, make sure you conduct thorough research on the area. Consider factors such as population density, competition, access to transportation, and parking availability. Also, it's important to understand the local economy and its seasonal fluctuations.
Consider what type of customers you would like to attract, such as families or millennials, and use this data to help you decide where to set up shop. Finally, don't forget to take the time to visit potential locations and get a sense of the neighbourhood. This can help you determine if the spot is ideal for your business before making a long-term commitment.
Purchase furniture, beauty tools and products
When setting up your salon, you need to think about the kind of furniture and beauty tools and products you will need. Invest in high-quality furniture that is comfortable and stylish, such as chairs, tables, and stools. You also need to purchase beauty products and tools, such as hairdryers, brushes, scissors, curlers, combs, shampoos, dyes, styling products, etc.
When buying beauty products and tools, it is important to get those from reliable brands. Make sure they are safe and comply with all safety regulations. Also consider the needs of your target market and the services you are offering. Having the right furniture, tools and products is essential for providing quality services.
When opening your salon, it is important to ensure that you hire qualified staff. Start by creating job descriptions and qualifications for each role in your salon. Be sure to consider the skills and experience needed to successfully fulfill the position. You can also require that applicants have a cosmetology license to demonstrate they have received formal training.
You should also pay attention to personal qualities such as customer service skills, enthusiasm, and punctuality. Consider holding interviews with all potential candidates to get a better sense of who might be the best fit for your salon. By taking the time to find the right people for the job, you can ensure that your business is successful.
Obtain necessary licenses and permits
Before opening a salon, it is essential to obtain all the necessary licenses and permits. This involves doing research on local laws and regulations, as well as meeting any requirements for doing business in the area.
The types of licenses and permits you need may vary depending on where you are located, but typically include a business license, a tax registration certificate, and other relevant permits such as an occupancy permit, an alcohol license if you are serving alcoholic beverages, and a special license to offer services that involve hazardous materials. Make sure to check with your local government to get a complete list of the licenses and permits you will need to start your business.
It is also important to understand the implications of not having the right licenses and permits. Failure to comply with local regulations can result in fines or closure of the salon. Do your due diligence before launching your business to ensure that your business operations remain compliant with local laws and regulations.
Advertise and promote your business
Once you have everything in place and your salon is ready to launch, it's time to advertise and promote your business. There are many options for doing this depending on the size of your budget. You could start with creating a website, local newspaper ads, flyers, social media campaigns or paid online advertising.
Try to be creative and think outside the box – your promotional efforts can make or break your salon's success. It's also important to build relationships with local businesses and other salons. Ask them if they would be willing to collaborate with you on marketing initiatives and join local organizations to get your salon more visibility in the community.
Monitor your business performance
It is crucial to track your salon's performance once it's open. Regularly assess whether you are meeting your goals and what strategies need to be tweaked. Gather data on customer satisfaction and preferences, competitor analysis and marketing results. Compare the actual results with the projections and adjust accordingly.
Create reports that show current and future trends in your business. This will help you identify areas where you can optimize operations, maximize revenue and create a better customer experience. Regularly assess your team's performance and provide feedback to help them improve and grow their skills. By monitoring your salon's performance, you will be able to stay ahead of the competition and increase customer loyalty
Graduates of Lakmé Academy have gone on to work in the makeup industry in a variety of fields, including retail cosmetics, fashion, photography, bridal, film, and television services!
Some of the Career Opportunities are​: