How To Choose Your Makeup Artist For Your Wedding?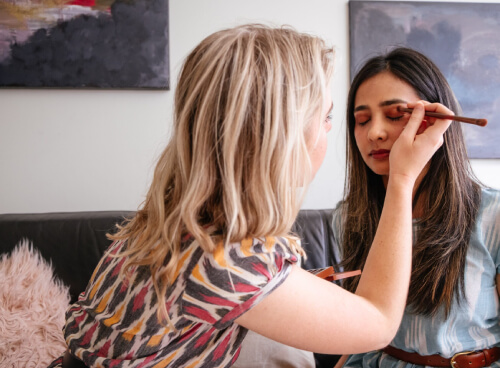 Are you preparing for the best day of your life and wondering how to choose the right person to do your makeup? When you're getting ready to walk down the aisle, you want to look absolutely stunning—and it all starts with your makeup.
But picking the right makeup artist can be a daunting prospect; there are lots of variables to consider, such as how much time you'll have to get ready, your skin type, and your vision of how you want to look on your wedding day.
To make sure that you choose the right artist for you, here are some tips and considerations to help you along the way.
Why hire a professional makeup artist?
If you choose to entrust your bridal makeup to a beauty professional, you have the choice between different professions. Here are the main benefits that a professional makeup artist will bring you.
A professional makeup artist specialises in makeup. This means that a makeup artist has a know-how that allows them to highlight all face shapes and all skin types. A makeup artist masters the techniques to achieve different styles, from the most natural "make-up no make-up" type to the most intense make-up.
Through the profession, a makeup artist has acquired experience and dexterity to make the best use of these different techniques. In addition, they preferably or even exclusively use professional quality products, which ensures optimal rendering and hold.
You will keep your wedding photos for life. Also, just like your dress and your hairstyle, do not neglect your makeup.
How to find a makeup artist?
At first, word of mouth, a search on the internet or on social networks will allow you to identify professional makeup artists in your area.
Start by checking out their work to get an idea of their style and see if it's what you're looking for.
Look at their portfolio and ask to see some before and after photos of their work.
Ask them about the services they offer and what experience they have. They should be able to handle any type of skin tone, hair color or style.
If you need someone who is bilingual or if they specialize in a certain type of look (e.g., Indian bridal), mention this too when booking.
What about reviews on Google?
Most businesses have a page on Google where their customers can leave reviews and comments. These reviews can be useful to help you make your choice.
If you have identified several makeup artists who can match you, do not delay in contacting them to check their availability.
Indeed, the wedding season is intense for makeup artists, and diaries fill up quickly. So, if you want to have the provider of your choice, don't wait until the last moment to book your beauty treatment.
And the price in all this?
Of course, the financial aspect of makeup is important.
A professional make-up artist, with specific know-how, and who only uses professional quality products, will offer services at a higher price than other beauty professionals.
In return, they will provide you with a high quality service with a beauty treatment that suits you and a long-lasting hold.
Are you hesitating between several makeup artists?
Have you found several makeup artists whose style you like and you are having trouble deciding?
Do not hesitate to contact them to discuss with them and see if you have a good contact. Your feelings are what matters most. As with other wedding vendors, it's important to get the hang of it with your makeup artist. So listen to your intuition!
Should I do a make-up test before the wedding?
It is highly recommended! Indeed, the trial allows you to define your make-up for this day that is so important to you. Make-up, like the hairstyle, is an essential element of the beauty of the bride. It must be in accordance with your personality, your dress, the theme of your wedding, in order to sublimate you.
Also, to avoid any unnecessary stress, it is best to carry out a trial a few weeks before the big day.
Well, I hope these few explanations have helped you!
Graduates of Lakmé Academy have gone on to work in the makeup industry in a variety of fields, including retail cosmetics, fashion, photography, bridal, film, and television services!
Some of the Career Opportunities are​: