How much can a beautician earn in India?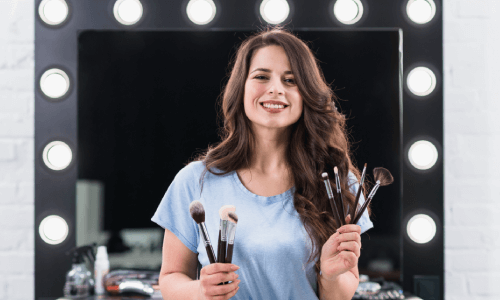 The beauty industry is one of the fastest-growing industries in India and is expected to grow exponentially over the next few years. With an increasing number of beauty salons, spas, and other beauty-related services in India, there is no doubt that the demand for beauticians is also increasing.
This article will provide an overview of how much a beautician can earn in India and tips for maximizing their earnings with the certification of beautician course in Chennai.
Earnings of a Beautician in India
Beauticians in India are becoming increasingly sought after, as the beauty and wellness industry is proliferating. According to a survey conducted by the National Skill Development Corporation (NSDC), the beauty and wellness industry is estimated to be worth $20 billion in India and is projected to grow at a rate of 15-20% annually.
As the demand for beauty professionals rises, the average salary of a beautician in India has also increased significantly. The average gross salary of a beautician in India is around Rs. 3,00,000 per year.
The salary varies based on the type of services provided and the experience level of the beautician. Experienced beauticians can earn up to Rs. 5,00,000 per year. In addition, beauticians can earn extra money by providing additional services such as makeup and hair styling.
With the right certified beautician courses in Chennai and relevant experience, a beautician can earn a respectable salary and continue to grow their career. The demand for beauticians is high and the job market is strong. With the increasing number of people interested in beauty treatments, the demand for beauticians is also rising.
As a beautician, you will be able to work in a variety of settings, from day spas to salons, to freelance work. You will also have the opportunity to work with a variety of clients, from celebrities to everyday people. With the certified beautician course in Chennai and experience, you can earn a good salary and a satisfying career.
Average Salary of a Beautician
According to a survey in 2021, the average salary for a beautician in India is Rs. 3.17 lakhs per year. This figure is expected to increase in the coming years as the demand for beauty treatments continues to grow.
Moreover, the salary for experienced beauticians can be higher than the average salary, depending on the salon, location, and the beauty treatments they offer. Also, the salary of a beautician may vary based on their experience and the number of clients they regularly serve.
The average salary of a beautician in India in 2022 is expected to be around Rs. 2.5 lakhs per annum. This is an increase from the current average of Rs. 1.8 lakhs per annum. This increase is being driven by the rising demand for beauty services in India, which is projected to increase by 10-15% annually for the next few years.
Additionally, the rising trend of beauty salons and spas, as well as the growing popularity of cosmetic procedures, are also pushing up the salaries of beauticians. According to a survey conducted by the Indian Beauty Salon Association, nearly 60% of the beauticians surveyed received salary hikes of 10-20% in the past year.
Furthermore, the survey also revealed that the highest salary offered to a beautician in India was Rs. 7 lakhs per annum. With the increasing demand for beauty services in India, the salaries of beauticians are expected to rise even further. So doing a certified beautician course in Chennai is the best choice for you.
Tips for Maximising Earnings
Utilize your network: Leverage your existing client base to build your reputation and increase your earnings.
Invest in marketing: Create a website and/or social media presence to promote your services and gain new customers.
Be flexible: Offer mobile services and accept bookings at short notice to make the most of available opportunities.
Offer discounts and promotions: Introduce discounts and seasonal promotions to attract new customers and build loyalty.
Expand your services: Consider offering additional beauty treatments to increase your earning potential.
Consider joining a franchise: Joining a franchise can give you access to a larger customer base and higher earnings.
Utilize online freelancing platforms: Join online freelancing platforms to find new clients and increase your earnings.
You will get career guidance with the Lakme Academy's certified beautician course in Chennai, where you can step forward confidently with the guaranteed career opportunities.
Networking and Building a Clientele
Network in your local community: Reach out to local salons, spas, and beauty parlors and build relationships with them.
Set up an online presence: Create a website or social media account to showcase your work and reach potential customers.
Get certified: Obtain certifications from recognized beauty institutions in India.
Promote your services: Utilize online and offline marketing strategies to reach more customers.
Offer discounts: Offer discounts and promotional offers to attract more customers.
Network with peers: Attend beauty events and use social media to network with other beauticians in India.
Build a portfolio: Keep a portfolio of your work to showcase to potential customers.
Upgrading Services and Technologies
1. Upgrade existing services and technologies to keep up with the latest trends in the beauty industry.
2. Invest in quality products and resources for a better customer experience.
3. Implement new techniques and tools to improve the efficiency of services.
4. Introduce advanced technologies like laser treatments, IPL, and microdermabrasion.
5. Offer comprehensive training and education programs to beauticians.
6. Utilise digital platforms to stay connected with clients and build customer loyalty.
7. Invest in customer service to ensure customer satisfaction and positive feedback.
8. Develop partnerships with other beauty professionals to expand services and add value to customers.
9. Utilize social media platforms to reach out to potential customers and advertise services.
Earnings and Opportunities for Beauticians in India
Beauticians in India have been gaining increased recognition in recent years. With the growing fashion industry, there has been a surge in the demand for beauty services, thereby creating excellent earning and career opportunities for beauticians.
They can find employment in beauty salons, spas, resorts, and even in the film industry. With the right skills and training, a beautician can earn a decent salary and have a successful career.
Moreover, the government of India has also taken steps to provide skill development courses and training to beauticians, ensuring that they stay abreast of the latest trends and techniques. This makes India an attractive destination for beauticians looking to build a successful career. Explore this vast opportunity in the beauty industry with the right beautician courses in Chennai.
Graduates of Lakmé Academy have gone on to work in the makeup industry in a variety of fields, including retail cosmetics, fashion, photography, bridal, film, and television services!
Some of the Career Opportunities are​: