How a Makeup Artist course can take your career to heights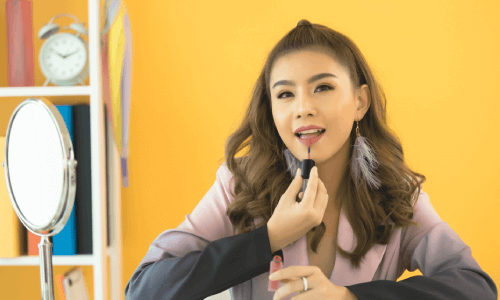 When you're starting in your makeup career, it can be hard to know where to turn. You might have the passion and the talent, but what next? How do you make the most of your skills, and turn them into a successful career?
One option is to take a makeup artist course. A good course will give you the training and the support you need to take your skills to the next level. It'll also connect you with industry professionals, who can help guide and support your career.
So, if you're serious about your makeup career, then a good makeup artist course is a must. With the right training and support, you can go far.
What You Need to Know Before Taking Makeup Artistry Courses
When it comes to starting your career in makeup artistry, it's important to do your research and find the right course for you. Some many different schools and academies offer makeup artist courses, so it can be difficult to know which one is right for you.
To help make your decision, here are some things you need to know before taking makeup artistry courses:
Level of experience: If you're a beginner, then look for a school that offers foundation or introductory courses. If you're already familiar with the basics of makeup artistry, then you can move on to more advanced courses.
Consider the type of training you want: Do you want to learn about traditional makeup techniques, or are you interested in learning about more modern makeup trends? Do you want to specialize in beauty, bridal, or fashion makeup? Once you know what type of training you're interested in, you can start looking for schools that offer that specific type of course.
Keep in mind your budget: Makeup artist courses can be expensive, so make sure you consider how much you're willing to spend on tuition. Do your research and find a school that fits both your experience level and budget.
Getting Started and Identifying Your Goals
So you want to be a makeup artist? That's great! The beauty industry is one of the most exciting and versatile sectors to work in. But like anything, getting started can be daunting. So where do you begin?
The first step is identifying your goals. What do you want to achieve with your career as a makeup artist? Do you want to work in television, film, fashion, or advertising? Do you want to specialize in bridal makeup, special effects, or airbrushing? Once you know what you want to do, you can start focusing on the specific training and skills required.
The best way to start is by enrolling in a professional makeup artist course. This will give you the grounding and essential skills required to start your career. You'll learn about colour theory, makeup application techniques, hair styling, and more. Plus, you'll get to work with some of the top professionals in the industry, which will give you the experience and confidence you need to succeed.
Finding the Right Makeup Course and Training
So you're thinking of becoming a makeup artist? Congratulations! This is a fantastic career choice that can take you to amazing places. But with so many different makeup courses and training options available, how do you know which one is right for you?
That's where we come in. Here at Lakme Academy Chennai, we offer an internationally recognized makeup artist course that will give you the skills and industry connections you need to succeed. Our experienced tutors will teach you everything from basic makeup application to advanced airbrushing techniques, and you'll have the opportunity to work with some of the top names in the industry.
Don't miss out on this amazing opportunity. Contact us today to find out more about our makeup artist course.
Makeup Artistry Practice Tools and Learning
The best makeup artist courses will equip you with the right tools, techniques, and knowledge to help you progress your makeup artistry skills. Through hands-on practice, you'll learn how to apply makeup in a variety of different looks, as well as pick up tips and tricks on how to achieve each look quickly and efficiently.
Since courses are usually only a few weeks long, you'll be able to work through each look in more detail than ever before. You'll also get plenty of practice time with an instructor who can help tweak and refine your skills along the way. Most courses also provide all the necessary tools and products needed so that you can practise what you've learned in an appropriate environment.
Courses are also great for networking purposes as you'll have the chance to meet other artists who may even become collaborators in the future!
Industry Certifications and Continuing Education
Once you've completed a makeup artist course, you should also get certified by an industry association. A certificate from an association will give you the official stamp of approval, ensuring your clients that you are qualified and that you have taken the necessary steps to keep up with the latest industry trends.
In addition, continuing education will help you stay current and up-to-date with the latest trends in makeup artistry. To stay competitive in this field, it's essential to attend seminars and workshops which will help sharpen your skills and build your portfolio.
Plus, regular continuing education is often a requirement to maintain certification or get additional certifications. By taking advantage of these educational opportunities, you can stay ahead of the curve and continue to grow your business.
Taking the Next Steps Toward Achieving Your Dream Career in Makeup Artistry
Are you ready to take the next steps toward achieving your dream career in makeup artistry? Now that you have an understanding of the various options available, it's time to take action and commit to a makeup artist course.
The best way to make sure you're getting the highest-quality education is to look for a course that has an established track record of success, and one that is offered by an accredited institution. You should also make sure that the course you select covers all the necessary skills and techniques for makeup artists, such as colour theory, brush techniques, product knowledge, and more.
On top of this, doing some research on potential instructors will help you ensure that they have experience working in the industry and can provide a comprehensive learning experience. That way, you know you're getting the most out of your training and setting yourself up for long-term success in this exciting field!
So if you want to branch out and become a makeup artist, or even if you just want to improve your makeup skills for daily use, a makeup artistry course is the perfect way to do it. You'll learn everything from the basics of makeup application to more advanced techniques, and you'll get to practise on real people under the guidance of a professional makeup artist.
Once you've completed your course, you'll be ready to take your career to the next level. You could work as a freelance makeup artist, or you could work for a makeup brand or company. No matter what your career goals are, a makeup artistry course will help you achieve them.
Graduates of Lakmé Academy have gone on to work in the makeup industry in a variety of fields, including retail cosmetics, fashion, photography, bridal, film, and television services!
Some of the Career Opportunities are​: