Career Opportunities in the Makeup Industry in 2023 Why You Should Choose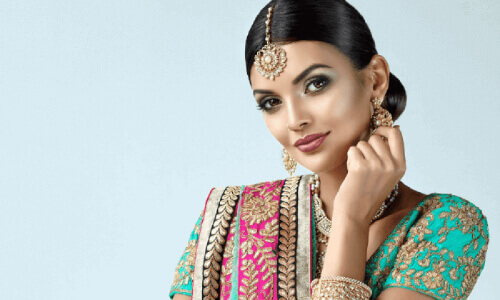 The makeup industry has been rapidly growing in recent years, and it's showing no signs of slowing down. By 2023, the makeup industry is projected to be worth more than $77 billion, making it a great career option for those looking to make their mark in the beauty world.With this explosive growth comes a variety of career opportunities for those with the right skills and the right attitude. In this blog post, we'll explore what kind of career opportunities exist in the makeup industry in 2023, and why you should consider making it your career path.
The ever-growing industry
The makeup industry is an ever-growing and evolving space, with new trends and technologies being introduced all the time. From creating stunning looks for special occasions to helping individuals enhance their natural beauty, makeup artists have become an essential part of the beauty industry. In recent years, the industry has seen tremendous growth and there are now more opportunities than ever before for talented makeup professionals.
With the continued rise of social media and its influence on the beauty industry, there are now even more career opportunities available for those looking to pursue a career in makeup.
As the beauty industry continues to grow, so does the demand for makeup artists. From runway shows and editorial photo shoots to bridal parties and private clients, there are countless opportunities available in the makeup industry. Makeup artists have become invaluable to the fashion and beauty industry, as they help bring out the best in people through their artistry.
Makeup artistry is a sought-after career path that can provide job security and a steady income. With the rise of social media, makeup artistry is becoming increasingly popular, as clients look for unique and creative looks that can be achieved by experienced professionals. As a result, the demand for makeup artists has been steadily increasing since 2023.
In addition, the demand for makeup artists is being driven by the ever-changing trends in the beauty industry. Trends like no-makeup makeup and bold colors are gaining traction, making them must-haves for many clients. With this trend comes an increased need for talented makeup artists who are well-versed in these techniques and can create stunning looks for their clients.
The increasing popularity of social media
Social media is a great tool for makeup artists to showcase their talents and gain exposure. With the rise of influencers, there has been a surge in the number of makeup-related content on social media. From Instagram to YouTube, makeup enthusiasts can share tutorials and looks with the world. This has increased the demand for makeup artists and jobs in the industry.
In the past, makeup artists had to rely on traditional methods of marketing such as print advertisements and word-of-mouth recommendations. However, the internet has made it possible for them to reach more people through the power of social media. By creating content that people find interesting and engaging, makeup artists can build an online following and spread the word about their services.
Moreover, many brands have taken advantage of the popularity of social media to promote their products and services. This has created even more job opportunities for makeup artists as brands look for creative professionals to help create unique looks for their campaigns. Social media platforms are also ideal for networking, which makes it easier for makeup artists to connect with potential employers and clients.
Social media has become an integral part of the makeup industry, making it easier than ever for makeup artists to get their name out there and find job opportunities. As the use of social media continues to grow, this trend will likely continue to provide more career opportunities in the makeup industry in 2023 and beyond.
It can be hard to keep up with the ever-changing trends in the makeup industry. Every year brings new colors, formulas, and products that people are eager to get their hands on. There's always something new to learn or something fresh to try.
For makeup artists, keeping up with the latest trends is essential. You want to make sure you are on the cutting edge of what is fashionable so you can bring the best looks to your clients. Clients will be drawn to your services if you have a keen eye for the latest trends and can use them to create stunning results.
One way to stay current is to attend trade shows and events that showcase new products and techniques. Not only will these experiences give you valuable insights into the industry, but they'll also help you network with professionals in the makeup world who can give you even more tips and advice.
It's also important to remember that trends don't just come from big companies. Smaller independent brands often introduce innovative products that aren't widely available yet, so it pays to keep an eye out for them. Social media is a great place to find inspiration, as there are plenty of influencers posting looks and tutorials daily.
The possibility of working from home
The makeup industry has seen huge growth in the past decade, with an increasing number of people taking an interest in the field. This has created an abundance of career opportunities for those interested in the makeup industry. One such opportunity that has become more popular recently is the option to work from home.
The beauty of working from home is that you can set your hours and decide when and where you want to work. You don't have to worry about commuting to and from a physical location, and you can even work while traveling. Plus, you have the flexibility to take on as many projects as you can handle.
Another benefit of working from home is that you don't have to worry about dealing with office politics or a stressful environment. Instead, you can focus solely on honing your craft and creating beautiful makeup looks.
Finally, there's the potential to make a good income, depending on how much work you put in. Freelance artists who specialize in makeup can often earn a good living from their passion.
The high potential earnings
The makeup industry offers a wide range of potential earnings depending on experience, location, and the type of position you are seeking. Makeup artists with more experience, expertise, and qualifications can make upwards of $80,000 per year. Those who specialize in makeup for television and film can expect to make even more.
Additionally, those with their makeup lines or businesses can potentially make much more than the average makeup artist. With the increasing demand for makeup products and services, there is plenty of opportunity for makeup artists to make a good living. Furthermore, many makeup artists can create multiple streams of income through social media, endorsements, freelance jobs, and other endeavors.
Graduates of Lakmé Academy have gone on to work in the makeup industry in a variety of fields, including retail cosmetics, fashion, photography, bridal, film, and television services!
Some of the Career Opportunities are​: