Achieving a Professional Makeup Look: An Inside Look as a Professional Makeup Artist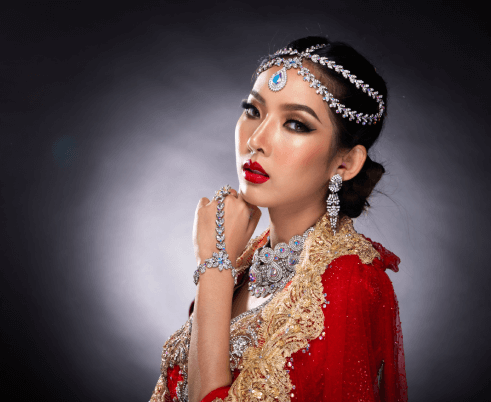 Are you a makeup enthusiast?
Do you want to learn the skills and techniques behind what professional makeup artists do?
In this blog, I will be giving you an inside look at my life as a professional makeup artist and sharing the tips and tricks necessary to create a polished and glamorous makeup look.
From selecting the right products and tools to learning how to apply them correctly and effectively, I will provide you with the necessary information and advice to help you achieve a stunning and glamorous makeup look. So, let's get started on your journey to becoming a makeup master!
Overview as a Professional Makeup Artist
"Making up the right way to get professionalism"
A professional makeup artist is a person who specializes in the application of cosmetics and other beauty products to enhance the beauty of a person. A professional makeup artist typically works with clients to create a look that is in line with their desired style and aesthetic.
They must also be knowledgeable of the latest trends and products in the beauty industry and be able to create looks that are both beautiful and long-lasting. Professional makeup artists also collaborate with photographers, fashion designers, and wardrobe stylists to create the desired look for a shoot or event. They often work with actors, models, and other performers to help create the right look for a performance or production.
The Advantages of Professional Makeup
Having your makeup professionally done can be a great way to look your best for a special event or just to feel great about yourself. A professional makeup artist can work with you to create a look that is tailored to your features and personality.
Professional makeup services can also provide a great way to experiment with different looks and products.
Professional makeup artists are also well-versed in color theory and can help you find the perfect shades for your skin tone. Additionally, a professional makeup artist will have access to high-quality products that can provide long-lasting results. All of these benefits help you look and feel your best.
Why is it important to achieve a professional look?
"Transform your look with a professional touch—makeup like a pro!"
A professional look is important in any business situation, as it conveys to others that you are capable and reliable. A professional look also exudes confidence and trustworthiness, which are key qualities in any setting.
Professional attire also shows that you respect and appreciate the people you're interacting with, as well as the importance of the occasion or task. It also signals that you are committed to making a positive impression and taking the situation seriously.
Ultimately, a professional look is an outward sign of your commitment to the project or task at hand and can help you succeed in any setting.
Applying makeup can be an intimidating task, but it doesn't have to be! With the right steps, you can easily create a flawless look with makeup. Before you apply your makeup, it's important to start with a clean, moisturized face.
Taking the time to properly cleanse and hydrate your skin will ensure that your makeup goes on smoothly and looks great. Additionally, it's important to prime your skin before you apply any makeup. Primer will help fill in any fine lines, blur pores, and make your makeup last longer.
Finally, make sure you have the right brushes and tools to apply your makeup. Investing in quality brushes and sponges will help you create a smooth, even finish. With these steps, you'll be ready to create a beautiful makeup look!
When it comes to finding the right products, it can often be an overwhelming task. With so many options on the market, it can be difficult to decide which products are the best fit for you and your specific needs.
To help make the process easier, here are five key points to consider when choosing the right products:
Quality: Look for products that are made with quality materials, constructed to last, and backed by a strong warranty.
Price: Consider your budget and choose products that fit within your price range.
Brand: Research the brand and read customer reviews to get an idea of the company's reputation.
Functionality: Determine the features and functions you need, and make sure the product meets your requirements.
As a professional makeup artist, you need the perfect base application to create the perfect look for your clients. A professional makeup base application is the perfect solution to help you create the perfect look.
Here are 5 reasons why:
allows for even and natural coverage.
lasts for hours without touch-ups
non-drying formula that won't cake or crack
Hypoallergenic and fragrance-free
Cruelty-free and vegan-friendly ingredients
With the right technique and products, you can achieve any look you want, from a bold and dramatic statement to a subtle and natural finish.
Here are 5 reasons why professional eye makeup application is the way to go:
Professional makeup artists understand the nuances of different eye shapes and skin tones and can customize your look to best suit your features.
With the right products, you can be sure your eye makeup will last all day without smudging or fading.
Professional makeup artists have access to the latest and greatest products, so you can be sure you're getting the best results.
A professional eye makeup application can be completed quickly and efficiently, so you can get on with your day.
By booking an appointment with a professional makeup artist, you can be sure you're getting the highest standard of application and advice.
As a professional makeup artist, I am passionate about helping you create a stunning look by applying blush and highlighter. My expertise in the craft of makeup artistry allows me to bring out the best in your features, creating a beautiful and natural look that will have you looking and feeling your best.
Here are four reasons why you should use blush and highlighter:
Use only the highest quality products to ensure a long-lasting and beautiful result.
It works with all skin tones, ensuring a flawless and natural finish.
Understand the importance of subtlety; I won't overdo it.
Strive to create a look that is tailored to your individual preferences and style.
As a professional makeup artist, these tips can help you create the perfect lip makeup look to enhance your unique features.
Practice the latest techniques for lip makeup application to create a look that is just right for your client.
Use only the best products on the market to ensure your lip makeup looks flawless and lasts as long as possible.
Take into account your skin type and skin tone to find the perfect colors and combinations that will make your lips look their best.
Create a variety of looks, ranging from subtle and natural to bold and dramatic.
As a professional makeup artist, I understand that the "finishing touches" are the most important part of any makeup look.
Here are five reasons why you should complete your look:
Ensure that you get the job done correctly and efficiently.
Use only the best quality products to give you the perfect finish.
Practice creating looks for any occasion, from casual to glam.
Understand the importance of creating a look that is unique to you.
Take pride in your work and be dedicated to providing you with the best experience possible.
Conclusively, achieving a professional makeup look is not as intimidating as it may seem. With the right tools, knowledge, and practice, anyone can become a master makeup artist. With the tips and tricks shared in this blog, you can now confidently create your own professional makeup look.
Even if you don't have the resources to be a professional makeup artist, you can still look like one! With the right attitude and dedication, you can be the best version of yourself.
Graduates of Lakmé Academy have gone on to work in the makeup industry in a variety of fields, including retail cosmetics, fashion, photography, bridal, film, and television services!
Some of the Career Opportunities are​: