8 reasons to book a professional makeup artist for your wedding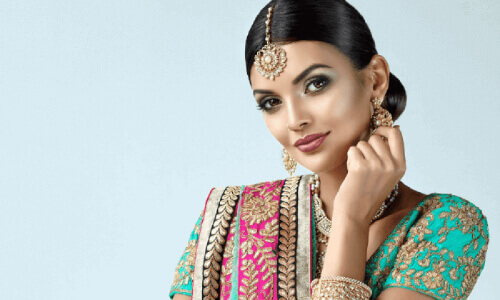 The big day is fast approaching. You have spent the last few months (even years for some) managing the wedding preparations, thinking about all the details, the comfort of your guests, etc. And you in all this?
you have a gorgeous dress that looks great on you but what about your pretty face?
Here are 8 reasons why you should book a professional makeup artist for your wedding.
As women, we tend to put the needs of others before our own and this shows when planning a wedding. Brides will focus on their families, and their guests long before thinking of them.
Hiring a professional makeup artist for your wedding is like having a fairy godmother at your wedding, someone who will be there to make sure you look your best on your wedding day.
As a professional makeup artist, I consider that I am not only there to put mascara on the beautiful eyes of my brides. I'm here to create a look that will show you off and make you feel beautiful because you deserve it.
I don't like makeup, I want to be natural
Many women think that it is not possible to look natural while wearing makeup, so they prefer to avoid it for their wedding.
I understand that. In my opinion, the objective of wedding makeup is not to make you look like another person but to highlight yourself as naturally as possible.
On the wedding day, you will be photographed all day and evening. You will have to be radiant at all times for these shots which will be precious memories.
Having your make-up done by a professional will allow you to have a perfect, fresh complexion, reduce the signs of fatigue, etc., and all this while remaining as natural as possible.
To achieve natural make -up, the placement of the products and the colors used must correspond to the features of your face. Make-up needs to highlight what you like and take away what you like least about your face to make you feel good about yourself.
The wedding makeup should also be in harmony with your final look. As said above, it's not everyday make-up but make-up that will sublimate you and will also highlight your dress and your hairstyle.
After studying the morphology of my brides, I create sketches of looks that will make them the most beautiful brides, radiant and elegant.
A trial with a professional makeup artist
Just like you try on your wedding dress, you can have a makeup try-on. The objective of the trial, as its name suggests, is to try on the look but also to see how the skin reacts and, as far as I am concerned, to create a link with your professional makeup artist.
During the trial, I recreate the look that I designed for my bride and that she chose a few weeks or a few months before.
The bride can see what the makeup looks like on her in different lights and at different times of the day. Indeed, the rendering will be different whether it is at sunrise or the end of the day.
The trial is the moment when the bride and I can exchange and I can thus get to know her to understand exactly what she expects from me, what she expects from my presence on the wedding day.
The products we use as professional makeup artists are different from the products you have in your makeup bag.
I do not only want my brides to be beautiful but also for their skin to be well-treated. I want them to feel good about the products I use (e.g. reduce the risk of reactions on sensitive skin) and for that, I must have products that can meet the needs of their skin type and other specificities.
This is why makeup professionals invest so much in their kit. In my kit, for example, you can find products such as mascara from a well-known brand that you may use, but also professional-grade products that you cannot find on the shelves of your favorite cosmetics stores.
These products must be suitable for all situations such as sensitive eyes, skin that has a strong tendency to shine, hot days, etc.
A professional makeup artist always has hygiene rules in mind.
I remember a few years ago a bride-to-be contacted me after a failed trial with another makeup artist. She explained to me that she had an infection following the test. To understand where it could come from, I asked her to tell me about the makeup session. When she told me that the make-up artist had used the brush from the mascara to apply it to her, I immediately understood what had happened.
When we apply mascara, as a professional, we must use not the brush of the tube but disposable brushes.
I'll tell you why. Imagine that I make up a person with conjunctivitis and use the brush used on his eyelashes on another person. The mascara is contaminated and the infection is passed on to the next person.
Can you imagine getting an infection on your wedding day from a poorly-cleaned brush or poor-quality products?
With the extensive usage of makeup by all people today, we tend to forget that using a professional makeup artist at home was once reserved for celebrities, personalities, etc.
Having a professional makeup artist for your wedding is, we can say, a luxury and if you can afford it, you might as well take advantage of it.
You will have the chance not to have to travel for your wedding makeup. Your professional make-up artist can come to your home or even to your hotel room or that of the castle that you have reserved for the occasion.
It's another way to release the stress of the past months and weeks, a break before the festivities begin, so take advantage of it.
One thing you may not realize, the day is going to pass very quickly. Before the ceremony, you can take time to rest, enter your bubble and relax.
This moment is yours, yours alone.
Convinced? Go quickly in search of your professional makeup artist/wedding.
Graduates of Lakmé Academy have gone on to work in the makeup industry in a variety of fields, including retail cosmetics, fashion, photography, bridal, film, and television services!
Some of the Career Opportunities are​: