7 tactics to Attract More Clients as a makeup artist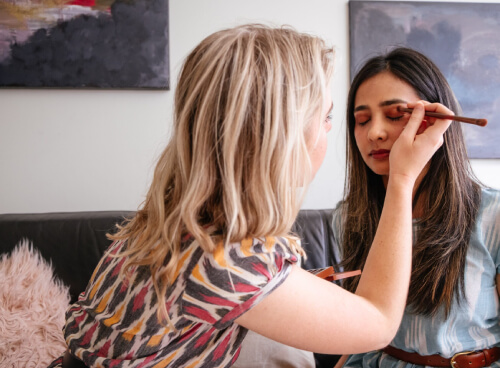 Learning the techniques to know how to do makeup is an important step in your career as a professional makeup artist, but if you don't have clients or don't know how to get them, it will be difficult for your knowledge to be of any use
Increase your presence on social networks.
Whether you're new to social media or just prefer not to use it, getting started on it can seem overwhelming at first.
Fortunately, with a few simple tips, you can be on your way to increasing your presence and generating leads as a freelance makeup artist.
The most important thing is that you create frequent content so as not to lose contact with your followers. For example, you can upload photos of your makeup to share with your clients, analyze the products you buy, show makeup corrections, and do live makeup tutorials, among other ideas.
Attend exhibitions or makeup events.
This is a great way to network and, therefore, get more makeup clients.
In order not to go crazy with an unlimited number of events, look for the ones that fit your skills and tastes. If you are trying to specialize in a field or have already done so, attend events related to this specialization. That way, you'll be more likely to connect with the right people.
Make alliances with photographers.
A photo from a photographer will be a great way to promote your work.
Connect with photographers through social networks and offer them the photos for free in exchange for providing makeup to the models in the photo shoot.
This can be a great showcase for the same models and photographers to recommend you.
Build relationships with your peers.
At Lakme Academy Chennai, we have a large community of makeup artists who are studying or have already finished their training at our school. Take advantage of all those women to make connections, communicate, and establish alliances.
It is always important to meet other makeup artists in case you need help, and vice versa.
Also, our community has some makeup professionals who are also experts in other areas.
What could be better than having the contact information of someone who does eyelashes, nails, floral arrangements, etc.? It will be an excellent alternative if a client asks for it. In this way, you can offer a complete service without losing that client.
If you want to go one step further than just having your own social network, having your own branded website as a makeup artist is a great way to showcase your professionalism.
If your budget allows it, you can always hire a professional website developer to create it. But if you don't have the money for this, no problem! Fortunately, today there are all kinds of free website builders and hosts with simple and easy-to-use templates that you can work with.
Offer strategic promotions.
Offering a discount for each additional bridesmaid or family member that the bride requests to do makeup is a great way to incentivize your client's referrals.
Another idea that you can apply is to offer a discount coupon for every three or four make-ups that the same person does with you. Think of alternatives like these that will surely help you win more clients.
Utilise Reviews and Testimonials
As a makeup artist, reviews and testimonials can be powerful tools to attract more clients and grow your business. Testimonials from happy clients can be an important factor in convincing potential customers to book your services.
Sharing positive reviews on your website, social media, and other marketing materials can help build trust with potential customers and give them the assurance they need to book your services.
And the list goes on and on. As you can see, the clients are never lacking. If you don't have them, it's simply because you haven't let your imagination run wild yet.
We encourage you to think of more alternatives and share them in the comments so that more makeup artists can put them into practice.
Graduates of Lakmé Academy have gone on to work in the makeup industry in a variety of fields, including retail cosmetics, fashion, photography, bridal, film, and television services!
Some of the Career Opportunities are​: